Products and Services
Download Jewish Music: Download general and Jewish music online. Find and listen to tons of Jewish songs.
Download full movies on iTunes


or from Amazon
More Products and Services you may like:
Search Great Jewish Music
Yisrael Lutnick's Gesharim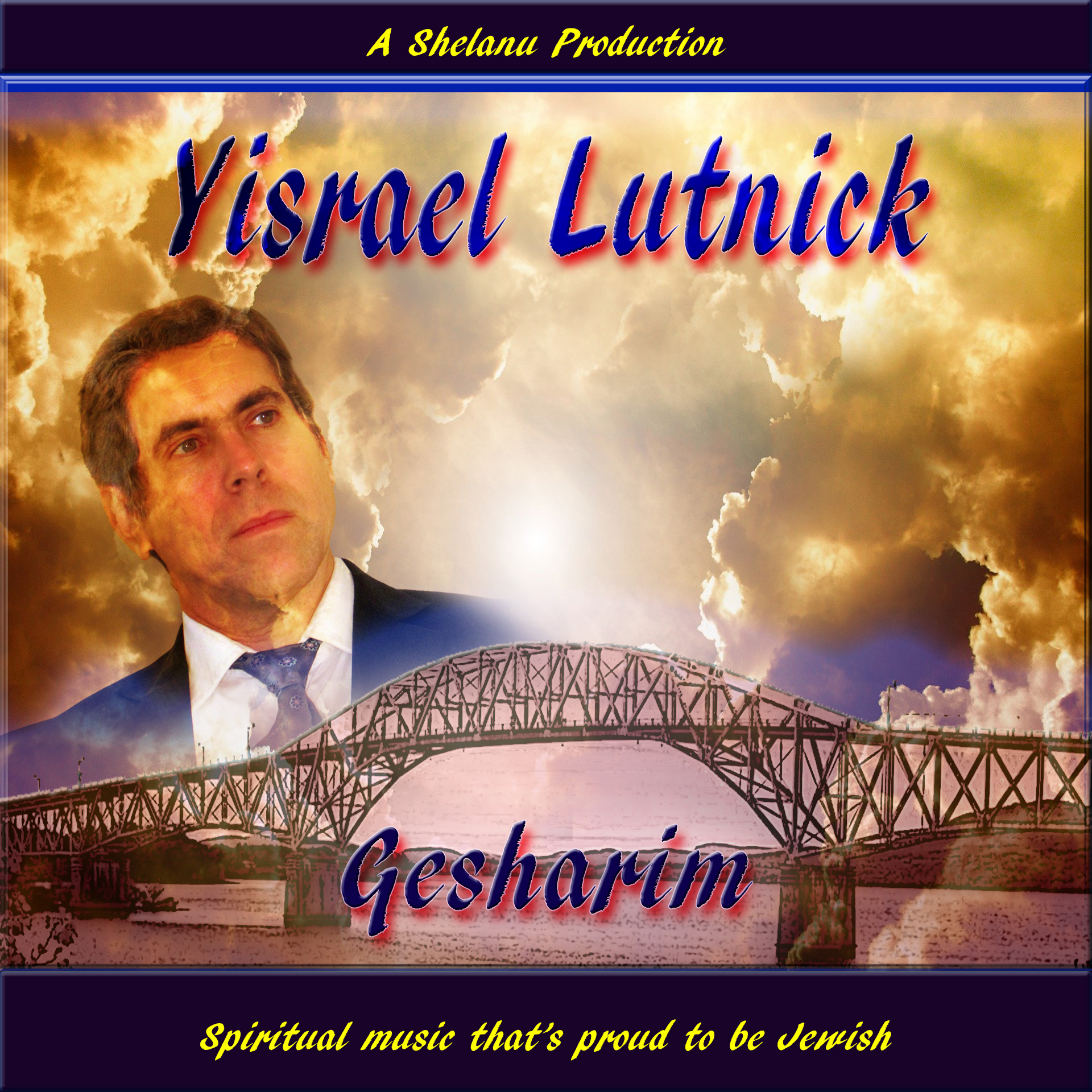 &nbsp
A Jewish CD, with Jewish songs. &nbsp It's Hebrew introspection, Jewish Adult Contemporary.
A Musical Journey You Will Enjoy Over and Over Again

Every so often, you hear a song that touches you in a special way. It may motivate you, it may relax you, it may bring on wonderful memories and beautiful feelings. Those are the songs that come from the soul, and speak to the soul. They make you think, they move you. Those are the kinds of songs on Gesharim.
Why is this Jewish music album different from all other Jewish music albums?
Gesharim is a unique album by a unique composer. Yisra'el Lutnick is a yeshiva graduate who has always had a burning passion for classical music and Broadway. His songs reflect a real musicality and spiritual sincerity. The music is beautifully melodic and richly layered. That is why this is not a one-listen album.
&nbsp
Click here for a Gesharim Sampler, Part 1
Click here for a Gesharim Sampler, Part 2
Click here for a clip from the song, &quot Gesharim.&quot


&nbsp
An ongoing journey to pleasure for the price of the CD.
&nbsp
Crossing a bridge can be a metaphor for life. Many people prefer to remain where they are, in safety, rather than venturing forth in search of new adventures. As human beings, we need to grow. The only way we will grow is if we muster up the courage to go cross that bridge, and conquer our fear of what lays on the other side. Gesharim, which means bridges, is more than just songs. It is a journey. A very pleasant and important one.
&nbsp
A journey into the heart and soul of Jewish music is waiting for you on this CD. The beautiful melodies, the rich harmonies and sophisticated arrangements provide a deep musical experience that grows with each listening. Gesharim is Jewish music with a classical influence that sets it apart from the rest. The more you listen, the more you will discover, the more you will enjoy. Start on this ongoing journey for the price of a CD today.
&nbsp
Faith
"And I stand in the fields and I raise my eyes,
And I ask, 'tell me why, tell me why

After all of these things that have come to pass,

How can it be? Yet I still see,

There's still a sun that shines?'

And this is sure, we will endure.

There'll be a sun that shines." (Why).
Tolerance
"I have a friend who is so different from me, both in his beliefs and opinions. But it's no secret that there's so much to learn from every human being. All that's needed is to understand each other, even if we disagree." (translation of Makom Baaretz).
Idealism
"Am Yisrael Chai, singing our song.
Someday, all humanity will join along.

Through the good and the bad times, on this you can rely.

We will sing forever Am Yisrael Chai." (Am Yisrael Chai).
Challenge
"Bridges call out in the night to the one who remains behind, in a false sense of satisfaction, 'It matters not where you are now, but rather where you are crossing over to.'" (translation of Gesharim).
Caring -
"Over the mountains, past the sea, sits a captive soldier.

Waiting, it seems, eternally, just to be going home.
Soldier wherever you may be, please do not feel forsaken.

We will not rest until you're free.

Free to come home again." (Captives).
I've listened to these songs literally hundreds of times, yet each time I
put in

the CD, I am touched anew. So will you be. Enjoy it ... a lot!
Thirteen songs you will love over and over again.
A Nigun - Play with
A joyous melody. Joy is beyond words, so get up and dance!

Im Eshkachech - Play with&nbsp
She is where heaven and earth meet, and this is a love song to her.
&quot If I forget thee, O Jerusalem, let my right hand be forgotten.&quot
Ale Asor - Play with
A touch of swing, with sax appeal! And trumpet. Anybody catch the Mendelsohnn?
&quot Because you have made me joyful by Your words, I shall sing of Your creations.&quot
Gesharim&nbsp - Play with
A call to everyone who still dreams, to get moving. A power pop ballad.
&quot Bridges call out to the one who remains behind in imaginary satisfaction. It makes no difference where you are now, but rather to where do you journey?&quot &nbsp
Od Yishama - Play with
Dance of joy, with a lively beat.
&quot The day will come when we will hear the voices of complete happiness.&quot
Ma Naavu - Play with
Based on ancient cantillation tones, a peaceful anticipation.
&quot How pleasant upon the hills are the footsteps of the harbinger of redemption!&quot
Makom Ba'aretz - Play with
Everyone must love peace. Hatred and bigotry have no place in our civilized world. Spread the word.
&quot It's no secret. There's so much to learn from all the wonderfully different people in our world.&quot
Captives - Play with
Bring them home. Especially for Ron, Zachary, Zvi and Yehuda. This song includes radio calls from surrounded soldiers &nbsp in the Yom kippur War. Courtesy of Avi Yaffe and their families.
&quot Please whisper to him how much we want him home.&quot
Tikva - Play with
Hope can conquer. Never even think to harm yourself, tomorrow will be a great day. this song is upbeat, you be also.
&quot Don't do what can't be undone. Rather, grasp that which really helps. Grasp hope, it is always there for you.&quot
Hashivenu - Play with
Clap and sing. Hassidic flavor, inspired by the great Reb Shlomo Carlebach, zl.
&quot Bring us back to You, and we'll return to Your ways.&quot
Why? - Play with
The most difficult question. And yet, the sun still shines, life goes on. A heartfelt ballad.
&quot Please tell me why on a summer's day, all the world rejoicing all of nature at play, comes a storm striking out in a lightning blaze, cutting down forever the young and the brave.&quot
Am Yisrael Chai - Play with
Catchy bouncy tune about Israel, the miraculous. There's a secret melody that gives the gift of eternity.
&quot Am Yisrael chai, singing our song. Someday all humanity will join along.&quot
Oseh Shalom - Play with
An symphonic beauty, with an inspired melody.
&quot May He who makes peace in Heaven, grant us peace.&quot
&nbsp
Those are the songs. Do they speak to you? Make them yours. Buy the CD.&nbsp Send your JM loving friends this way as well. Let's share the music, and make the world a happier place.
&nbsp

&nbsp

&nbsp
Translation of the song &quot Gesharim.&quot
&quot Bridges from the midst of the night
Certainly lead from here to there
Even though I can't see if there is even another side
&nbsp
Because the nighttime fog conceals everything
And scares away all those who would go forward
But I know that it is scarier still to simply remain a dreamer
So I am ready to go on my way
I have no reason to delay
I already rise above the darkness
And approach the pinnacle
&nbsp
The tower pierces the heavens
How beautiful is the dawn in the east
In the distance I see other bridges-
the journey continues&quot
&nbsp
&nbsp